Chipping away at the tasks on the truck.
01/09/09 10:49, by
admin
, Categories:
Uncategorized
I've been working through some troubleshooting issues, and other details on the truck.
The battery tray for the drivers side 'electronics and accessories' deep cycle battery has been built and installed. A positive power wire has been run over to the primary battery, just so that part is done and mounted. The next part to put in would be a battery isolater so that the electronics can drain the deep cycle, but not the main battery.
Inside the cab, I've covered all of the parts for the console. The USB ports have been found and connected to the mainboard, so I can now have everything plugged in at once. This includes the two touchscreens, space navigator pe, usb to serial converter for the HD radio, phidgets controller, usb hard drive, card reader, keyboard, and even a port or two to spare.
I now have to work on the configuration for two touchscreens, to get all of the inputs working correctly.
The center console lid was covered in the vinyl I had, and then re-covered with more padding, and soft vinyl I picked up at Hancock Fabrics.
Since the vinyl was so inexpensive, I picked up a large section of it, and also recovered our kitchen bench and chairs.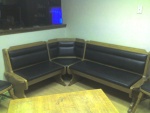 I made a panel to house the heater controls and other switches that have been migrated from the center dash, to behind the airbag cover on the passenger side.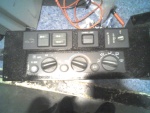 The only parts that are left to be fabricated are the front and rear bumpers.
Feedback awaiting moderation
This post has 1111 feedbacks awaiting moderation...
Comment feed for this post