Battery Isolator installed.
04/07/09 15:16, by
admin
, Categories:
Uncategorized
I have gotten around to purchasing and installing a battery isolator. Now the PC can be left on, without fear of not being able to start the truck when needed.
The unit I purchased was a BIC-95150B from Hellroaring Technologies. Another great company where emails are responded to, and shipping is prompt.
There is a diminishing amount of space to put things under the hood of the truck, I found an open spot under the module on the drivers side inner fender.
I also put an 80-amp fuse on each side of the BIC-95150B.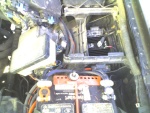 I pulled the hard drive to get it updated, so now I'll need to put it back in, buy a new deep cycle battery, and get an Idea of how long I can run the PC.
Next up: Sorting out the dual screens, HD Radio, WAP, cameras and Phidgets.
Feedback awaiting moderation
This post has 1099 feedbacks awaiting moderation...
Comment feed for this post